TZ 5000 R Model Grout Cleanup Machine
Like the TZ 6500, this machine is specially designed to take the work out of grout clean-up. The TZ 5000 R Model is ideal for smaller commercial and residential jobs!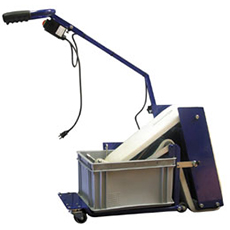 Designed to get into small and tight spaces
Puts the operator in a comfortable, upright position
Adjustable handle bars
Extremely maneuverable and lightweight, at only 60 lbs.
Made from high quality materials for a long service life
Electric motor for in/outdoor use
30 second sponge and water bucket change
Solid, swivel casters
Long sponge life; approximately, 10,000 sqft
Cleans up to 1,000 sqft per hour
8-inch sponge belt; low-cost sponge replacement
Easy to clean and maintain
Suitable for abrasive tile, quarry tile, glazed/unglazed ceramic, rough and polished natural stone
Comes with a 1-year limited warranty
With a minimal amount of training, one laborer can do the work of 3 and do it three times faster! Water is changed less frequently so there is less down time. The TZ 5000 R Model cleans up to 600 square feet per hour.
The TZ 5000 R Model uses a soft sponge belt which picks grout up off the floor surface, and is washed clean as it revolves around the rollers. Residue and water are pressed out in the attached bucket resulting in a clean, film-free surface. Only half the amount of water is required, unlike conventional methods, so grout joints are not washed out. Also, the operator works in an upright position, eliminating fatigue and stress on the knees and back.
The TZ 5000 R Model is equally at home on brick pavers, abrasive tile, sure tread tile, glazed and unglazed ceramic, rough slate, natural stone, polished and unpolished marble & granite, and Mexican tile
The TZ 5000 R Model is powered by electric hand drills which are serviceable in the USA and Canada. Parts, including sponge belts (regular & epoxy), are available directly from TILE-EZE or any authorized TILE-EZE dealer. This model is very durable and virtually maintenance-free. Movable parts have sealed bearings for a smother operation, and belt replacement is a snap - snap on, snap off.
Certain grouts may create excessive foam in the water bucket, making it necessary to change your water more often. To eliminate this problem, we recommend using TILE-EZE defoamer. One application of our defoamer will reduce excess foam.