TZ 7500 Super Grouter
Commercial Grout Spreading Machine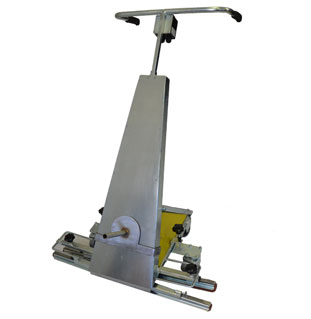 Designed for large in/outdoor commercial areas
Puts the operator in a comfortable, upright position
Adjustable hand bars
Maneuverable and lightweight; 60 lbs
Electric motor for in/outdoor use
Ridged steel construction for longer service life
Four, dual, swivel casters
Dual, 30-inch-wide, rubber squeegees
Speads grout up to 1,000 sqft, per hour
Weight plate post for added squeegee pressure
Multiple squeegee to floor adjustments
Easy to clean and maintain
Suitable for flat, smooth surfaces; such as, ceramic, porcelain, polished
and unpolished natural stone
The TZ 7500 Automatic Grouting Machine grouts in one easy operation. When properly used and maintained, the TZ 7500 does the job three times faster than conventional methods with 1/3 the man power - saving time and labor expenses. Also, there are no special skills required. Working in an upright position, a single operator can grout several thousand square feet per hour.
---
Weighing a mere 60 pounds, the machine is 30" wide and has an adjustable handle height of 33" to 38" to accommodate the laborer, making jobs virtually fatigue free.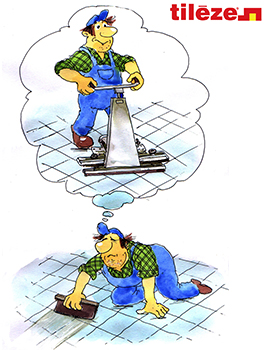 The TZ 7500 is composed of two 30" rubber squeegees which are set at an angle and move simultaneously in opposite directions. As the machine passes over the floor, grout is moved forward evenly and tightly compacted into the joints. Excess grout is pushed to one side for pick up on the return pass. Squeegees are easily replaced when necessary.
 Operation of the TZ 7500 is simple. Resting the machine on the tile at a slight angle, pour the grout mixture in front of it and begin slowly moving forward in a straight line. Excess grout is pushed to one side and is picked up on the return pass. For optimum performance and to ensure a quality job, grout should be a thicker consistency. DO NOT use grout that is runny.