TZ 6000 - Commercial Grout Cleanup Machine
With a minimal amount of training, one laborer can do the work of 3 and do it three times faster! Water is changed less frequently so there is less down time. The TZ 6000 will clean 1,000 square feet per hour.
Electrically powered, the TILE-EZE 6000 uses a soft sponge belt which picks grout up off the floor surface, and is washed clean as it revolves around the rollers. Residue and water are pressed out in the attached bucket resulting in a clean, film-free surface. Only half the amount of water is required, unlike conventional methods, so grout joints are not washed out. Also, the operator works in an upright position, eliminating fatigue and stress on the knees and back.
The TZ 6000 is equally at home on brick pavers, abrasive tile, sure tread tile, glazed and unglazed ceramic, rough slate, natural stone, polished and unpolished marble & granite, and Mexican tile.
The TZ 6000 is powered by electric hand drills which are serviceable in the USA and Canada. Parts, including sponge belts (regular & epoxy), are available directly from TILE-EZE or any authorized TILE-EZE dealer. Constructed of galvanized steel with welded main frames, each model is virtually maintenance-free. Movable parts have sealed bearings for a smother operation, and belt replacement is quick.
Certain grouts may create excessive foam in the water bucket, making it necessary to change your water more often. To eliminate this problem, we recommend using the TILE-EZE Defoamer. One application of our defoamer will reduce excess foam.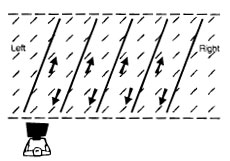 Read all enclosed directions completely before operating TZ 6000. We recommend practicing under controlled conditions before going to a job site to gain the techniques that ensure a professional job. The demonstration video included with the machine should be viewed before use. The TZ 6000 is designed to be used from left to right. Start the job on the left side and move stroke by stroke to the right to enhance the machine's performance.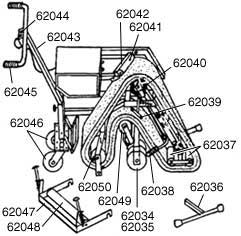 40190 Sprocket for Drill
40404 Motor
40504 Sprocket Z 18
45998 Bearing 6000 2RS
62024 Drive Shaft 400/620P
62030 Chain for Motor
62031 Double Sprocket 11/30
62032 Chain from Sprocket to Rollers
62033 Sprocket Z 30
62034 Font Wheel 1 PC
62035 Wheel Set Front 3 PC
62036 Sponge Belt Guide
62037 Sponge Belt Roller Front
62038 Adjustment Lifting Arm
62039 Adjust. Arm Locking Device
62040 Driving Drum Rubber Roller
62041 Upper Pressure Roller
62042 Upper Pressure Roller Arm
62043 Steering Handle
62044 On/Off Switch
62045 Rubber Grip Set of 2
62046 Rear Swivel Caster
62047 Pressure Clip
62048 Pressure Clip Roll
62049 Inner Sponge Belt Roller
62050 Lower Sponge Belt Roller
20201 Chain Lock
1.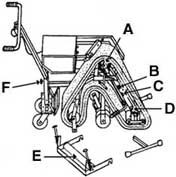 Disconnect electrical supply.
2. Remove water container.
3. Loosen screw "A" and push top pressure roller sideways.
4. Loosen knob "B" and release height adjustment by pressing button "C".
5. Remove sponge glide control bar "D".
6. Disconnect and remove wringer pressure roller "E".
7. Place machine on it's left side and pull used sponge off.
8. Moisten new sponge (for easy replacement) and slide onto machine.
9. Lift machine back upright and line up/straighten sponge belt over rollers.
10. Insert "E" wringer roller set and place into its holding studs.
11. Fasten roller clips to studs with springs.
12. Insert top pressure roller "E".
13. Insert glide control bar "B".
14. Lift handle bar up and tighten with knob "F".
15. Replace water container.
16. Check all connections.
Do not run sponge when dry or overfill water container.